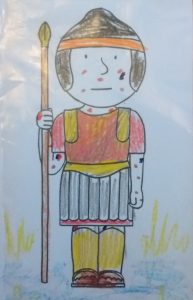 Naaman's skin disease is drawn on a plastic sheet so you can heal him by lifting it up.  Some of our children got rather carried away and Naaman looked very poorly indeed.
You will need:
Card with picture of Naaman
Plastic sheet, same size as card
Sellotape
Colouring pens/pencils/crayons
Sticky dots or pens which can write on plastic (OHP pens, glass pens etc)
Get the children to colour the picture, then tape the plastic sheet on top.  They can then add sticky dots or draw blemishes on the plastic sheet to illustrate Naaman's skin disease.
Bible story: Naaman is healed of his skin disease by washing seven times in the river Jordan, as instructed by the prophet Elisha (2 Kings 5:1-15)
We got this idea from: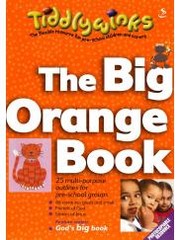 The big orange book (Tiddlywinks): 25 multi-purpose outlines for pre-school groupsScripture Union 2004WorldCat•LibraryThing•Google Books•BookFinder•Hive.co.uk