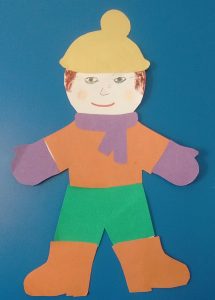 On one of the hottest days of summer, we thought about cold weather and people who make us clothes to wear.
You will need:
Card shapes of people – you can buy these or cut your own.
Coloured paper shapes of various types of clothing (to fit your people)
Glue
Coloured pens, pencils or crayons
Stickers (optional)
Cut out the people and clothes in advance.
The children should glue the clothing to the people and draw faces on. They can also add stickers for buttons or decorative effects.
Story about a snowy day and the clothes needed to keep warm, based on Psalm 147:15-18 and Proverbs 31:13,19,21