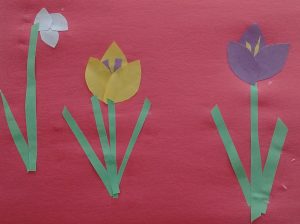 These were a bit fiddly for the children to do accurately without adult help, but they did some great abstract versions of the picture!
You will need:
White, yellow, purple and green paper
Contrasting coloured paper for background
Scissors
Glue
Coloured pens, pencils or crayons (optional)
In advance, cut petal and stalk/leaf shapes from the coloured paper.  I kept the cutting fairly simple as I didn't have much time (I'd only decided on the activity on the way there), so the leaves and stalks and stamens are roughly rectangular.
The children should glue the petals, leaves and stalks to make a spring flower picture.  They can draw on extra details if they like.  Alternatively the stalks & leaves can be drawn with a green crayon instead of sticking paper down.  Yellow crocuses look good with purple stamens in the middle and vice versa.
Story: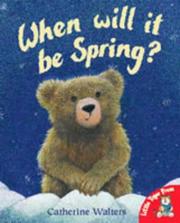 When Will It Be Spring? (Alfie Bear)Catherine Walters; Little Tiger Press 1998WorldCat•LibraryThing•Google Books•BookFinder•Hive.co.uk