As it was Valentine's Day we decorated heart-shaped biscuits to give to someone we love best. Of course, toddlers love themselves best, so most of them ate their own biscuit…
You will need:
heart-shaped biscuits (recipe below: you will need a cookie cutter of the appropriate shape)
icing (mix icing sugar with a little boiling water, or use the ready-mixed stuff you can buy)
decorations that are big enough for toddlers to handle (we used currants, gold balls, star & polka dot cake decorations, strawberry laces cut into short lengths, chocolate drops, alphabet shaped sweets)
something to wrap the biscuits up in so they can be taken home (cling film, sandwich bags, etc)
You will need the children closely supervised so they don't just eat all the decorations…!
This is my biscuit recipe:
12 oz plain flour, 6 oz sugar, 6 oz margarine, 1 medium egg
Mix ingredients together using an electric mixer, or if you prefer to do it by hand rub the margarine into the flour and beat in the sugar and egg.  Roll out quite thinly and cut into heart shapes with an appropriate cutter.  I baked mine for about 15 minutes at 140° C in a fan oven.  For a gas oven that would be gas mark 3, 15-20 minutes.  They should just be beginning to dry out, rather than going particularly brown.
This recipe makes a LOT of biscuits: I had plenty for the family to share after the toddlers had finished!  You can halve the quantity if you can halve your egg.  Alternatively you could do a shortbread recipe (8oz plain flour, 2oz sugar, 5oz butter/margarine, same cooking time & temperature).
Story: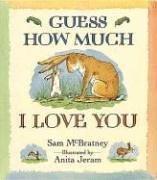 Guess how much I love youSam McBratney; Candlewick Press 1995WorldCat•Read Online•LibraryThing•Google Books•BookFinder•Hive.co.uk