Nothing more basic than decorating a picture of a balloon, but the children liked it anyway.
You will need:
Paper with balloon outline drawn (you can find one on the Internet if you can't draw your own)
Coloured pens, pencils or crayons
Stickers
Wool or curling ribbon (buy at greetings card shops)
Scissors and glue
Cut lengths of wool or ribbon suitable for the balloon strings.  Children should decorate their balloon any way they like and glue on a string at the bottom.
Story: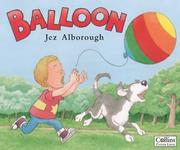 BalloonJez Alborough; HarperCollins Publishers Limited 2000WorldCat•LibraryThing•Google Books•BookFinder•Hive.co.uk