We thought about how baby Jesus was welcomed at the Temple in Jerusalem by Simeon and Anna, and made a banner to hang on the wall saying "Welcome!"
You will need:
A roll of paper or wallpaper
Pens / pencils / crayons
Stickers
Draw the outline of the word "Welcome!" in advance and cut the paper to the length you want.  Get children and adults to do the colouring and decorate it with stickers.  Hang it up somewhere!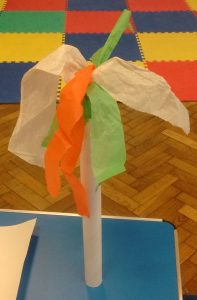 For those children who wanted to make something to take home, we made things to wave, thinking about how you might wave a flag to welcome the Queen.
For these, you will need:
Narrow cardboard tubes from kitchen foil (or similar)
Tissue paper
Glue
Stickers (optional)
Tear the tissue paper into strips and glue them to the end of the tube.  Your finished wavy thing will look a bit like a palm tree.  You can also stick stickers to the tube.  It would probably be a good craft for Palm Sunday.
Bible story: Jesus is presented at the Temple Luke 2:21-40