These dinosaurs are made from half a paper plate and some pre-cut card or paper shapes.  I got the idea from The Craft Train who also have some other dinosaur plate designs – this was the simplest.
You will need:
Paper plates
Coloured card or paper
Glue
Crayons, pens or pencils
Googly eyes (optional)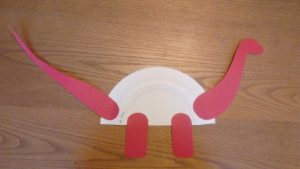 In advance, cut out sets of heads, tails and legs (template here).  I managed to get two lots out of a single sheet of A4 by careful arrangement of the shapes.
Children glue the shapes to one half of a paper plate, and add facial features and colour as much as they like!
Story: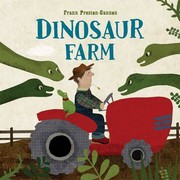 Dinosaur farmFrann Preston-Gannon; Pavilion Children's Books 2013WorldCat•LibraryThing•Google Books•BookFinder•Hive.co.uk