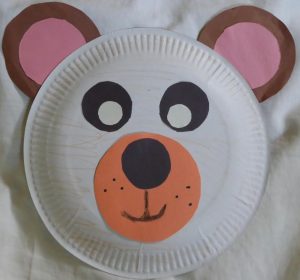 This friendly bear is made from a paper plate and some circles of coloured paper.
You will need:
Paper plates
Coloured paper (I used brown, pink, orange, black and white)
Glue
Coloured pens, pencils or crayons
In advance, cut out circles of paper for the bear's ears, eyes, nose and muzzle.
The children should glue the features onto the plate, draw on a mouth and do any colouring they feel like.
Story:

One Ted Falls Out Of BedJulia Donaldson; Macmillan Childrens 2005WorldCat•LibraryThing•Google Books•BookFinder•Hive.co.uk