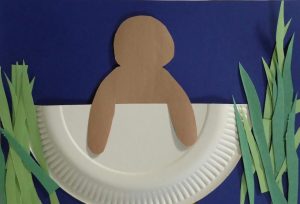 Using half a paper plate to make a simple Moses basket, baby Moses is floating in the river Nile among the bulrushes.
You will need:
Paper plates
Coloured paper: green and a suitable colour for the baby
Blue card
Glue
Scissors
Coloured pens, pencils or crayons
In advance, cut simple baby shapes from pink, brown or other coloured paper.  (Don't worry too much about what the bottom half of the baby looks like, as it will be inside the basket.)  Cut strips of green paper for the rushes.  Cut paper plates in half.
The children should glue the edges of the plate to their picture (have the under-side of the plate on top so that the middle of the plate sticks out), and the bulrushes.  The rushes can be in front of and behind the basket as well as at the edges of the picture.  They should draw a face on their baby and pop him into the basket – he doesn't need to be glued down, as he can just hold on with his arms – and do any additional colouring they like.
Bible story: The birth of Moses (Exodus 2:1-10)
This is a simpler version of a craft idea I found at Danielle's Place