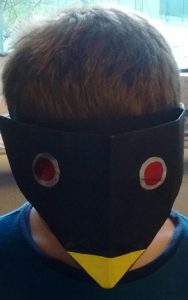 This cheeky blackbird is ready to eat the seeds which fall on the path in the parable of the sower.
You will need:
Strong black paper or card
Coloured paper for eyes and beak
Glue
Stapler or sellotape
Scissors
In advance, prepare sets of two contrasting circles for each eye and a yellow triangle for a beak. Fold black paper to get a right-angled triangle (keep the two layers) and cut off any excess: you can use the offcuts to make headbands. You may also need extra strips of paper for the headbands, depending on the shape of the paper you started with.
Fold the black triangle in half again to put a crease down the middle: this will make it easier for the children to glue the eyes on symmetrically and make the beak stick out better.
The children should glue on the eyes and yellow beak. An adult will need to make a headband for them from strips of strong paper or card, and staple or tape it to the bird head.
Then you can get the birds to join in the…
Bible story: The parable of the sower (Matthew 13: 1-23, Mark 4: 1-20 or Luke 8: 1-15)