We made some funny monsters from card covered with wrapping paper, and from plain coloured card too.

You will need:
Pre-cut monster shapes – just a vague head and body. You can use old cereal boxes covered with wrapping paper, or just ordinary coloured card.
Pre-cut arms and feelers from card
Round stickers with funny eyes drawn on, or googly eyes
Mouths with plenty of teeth, drawn on paper
Glue
The monster shapes I made had a straight edge at the bottom, and two slits cut into the bottom edge so that the outside bits could fold forward for legs, and the inside bit fold backwards to help the monster stand up.
The children should glue on as many arms, feelers, eyes and mouths as they think appropriate for their monster! If they're made of plain card they can be decorated further with coloured pens, pencils or crayons.
Story: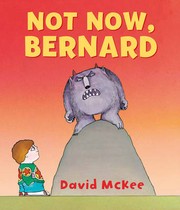 Not now, BernardDavid McKee; Andersen Press 2012WorldCat•LibraryThing•Google Books•BookFinder•Hive.co.uk