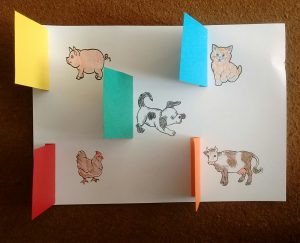 This week's theme was "I can think". This picture with flaps can test memory or even help with reading skills.
You will need:
White card printed with a few line drawings, or pictures on paper which can be cut out and glued to a sheet of card
Smaller pieces of coloured card to use for flaps
Crayons, coloured pencils or pens
Glue
Ensure your flap pieces of card are big enough to cover the pictures but small enough so they don't catch on each other! Crease the flaps near one edge so that it's obvious where the glue should go.
Children should colour the pictures and glue the flaps down. To make the picture more educational for children who are beginning to recognise their letters, adults can write the names of the objects in the pictures on the flaps. I deliberately used animals with three-letter names for this reason.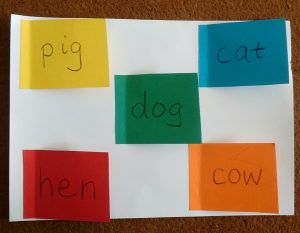 Story: Solomon asks for wisdom (1 Kings 3: 1-15)