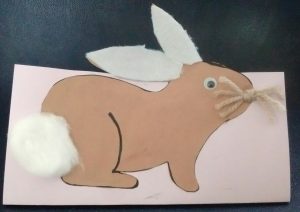 This cute rabbit has lovely strokeable ears and a cotton wool tail, and can stand up on his card backing.
You will need:
Coloured paper (white/brown/grey or any colour you like!)
Coloured card
Velvet or similarly soft and strokeable fabric in a suitable colour (I used white)
Cotton wool
Googly eyes
Wool (brown/white/grey or any other colour)
PVA glue
Pens, pencils or crayons
Preparation
Cut out rabbit shapes from paper.  To make a support for each, take an A5 sized piece of card (cut A4 sheets in half) and make a fold about an inch in from the longer edge so that the piece of card will stand up. Cut out ear shaped pieces of fluffy fabric. To prepare the whiskers, take four strands of wool and knot them together, then trim to a sensible length. 
Assembly
The children should glue the rabbit shapes onto the card so that the ears are above the edge of the card: that way they can flop nicely. Glue fabric to the ears (fluffy side up!) and stick a small ball of cotton wool on for the tail. Stick on an eye (or two if you think the rabbit is looking at you) and nose and whiskers.
They can of course colour them in; the outline of the rear leg might be drawn on by an adult.
Story: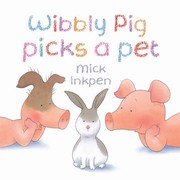 Wibbly Pig picks a petMick Inkpen; Hodder Children's Books 2012WorldCat•LibraryThing•Google Books•BookFinder•Hive.co.uk 
Songs: Sleeping bunnies; Little Peter Rabbit had a fly upon his nose